BMW i Qualifies for Substantial Tax Credits and Savings

While considering the numerous benefits of the new all-electric BMW i3, we explore its innovative advancements in sustainability, zero emissions, zero gas cost, and mobility services, to name just a few. The BMW i Electronaut Effect has already demonstrated the actual cost savings of owning the BMW i3 as compared to a gas-powered vehicle, as BMW tracked 700 "electronauts" and their real-road day-to-day driving statistics. While the gas cost savings potential is enormous, we have another added benefit to add to the list. The BMW i also qualifies for substantial tax credits, both at the federal and state levels.
The all-new 2014 BMW i3 is officially on the list as a qualified plug-in electric drive motor vehicle under Internal Revenue Code (IRC) 30D, allowing up to a $7,500 federal tax credit. In addition, the State of California is recognizing the advantages of having this all-electric BMW on the road by offering a tax credit of up to $2,500, providing a total tax credit of up to $10,000 potentially available to purchasers and lessees of the new 2014 BMW i3.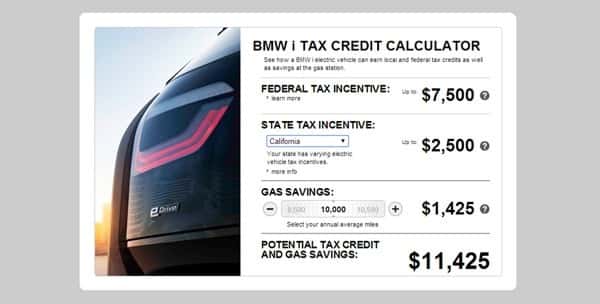 Tax credits tend to be complicated and subject to change without notice. While BMW of North America, LLC and BMW of San Francisco do their best to keep this information up-to-date, they cannot guarantee the current accuracy or your eligibility. We recommend consulting a tax professional to validate credit availability and eligibility. The following is official information from the IRS regarding Electric Vehicle tax credits and is available on their website at: https://www.irs.gov/Businesses/Plug-In-Electric-Vehicle-Credit-(IRC-30-and-IRC-30D) .
Contact our BMW of San Francisco Sales Specialists with any questions [ 888-281-0753 | Online ] or view our BMW i3 web page for more information about its cutting-edge technologies and advancements.
Post by: Jason Griffin