UDE San Fransisco Registration

San Francisco, CA Bay Area MACO | Cow Palace | August 5th – 8th, 2021
Welcome to the BMW Ultimate Driving Experience registration. BMW will be following all CDC guidelines to create a safe event while allowing consumers to experience the thrill of the M440i xDrive Coupe. Consumers will have the opportunity to compare the performance of BMW's Plug-in Hybrid Electric Vehicles. Battle the 330e Sedan vs. the core counterpart, 330i and X5 xDrive45e vs. Lexus RX450hL or Volvo XC90 Recharge in the all-new Plug-In Performance activity.
Your health and safety is our priority. We will be implementing increased safety measures while still providing the best Ultimate Driving Experience for you. Before entering the event, we are requiring all guests to go through a pre-screening process involving temperature checks. Masks are strongly encouraged for fully vaccinated attendees but are still required for not fully vaccinated attendees while at the event. Masks should be worn properly (full covering both nose and mouth) throughout your experience, and we ask that social distancing is practiced while at the event. If you forget to bring your mask, know that PPE supplies will be available.
Driving Activities Include:
Autocross
Street Drives
Plug-in Performance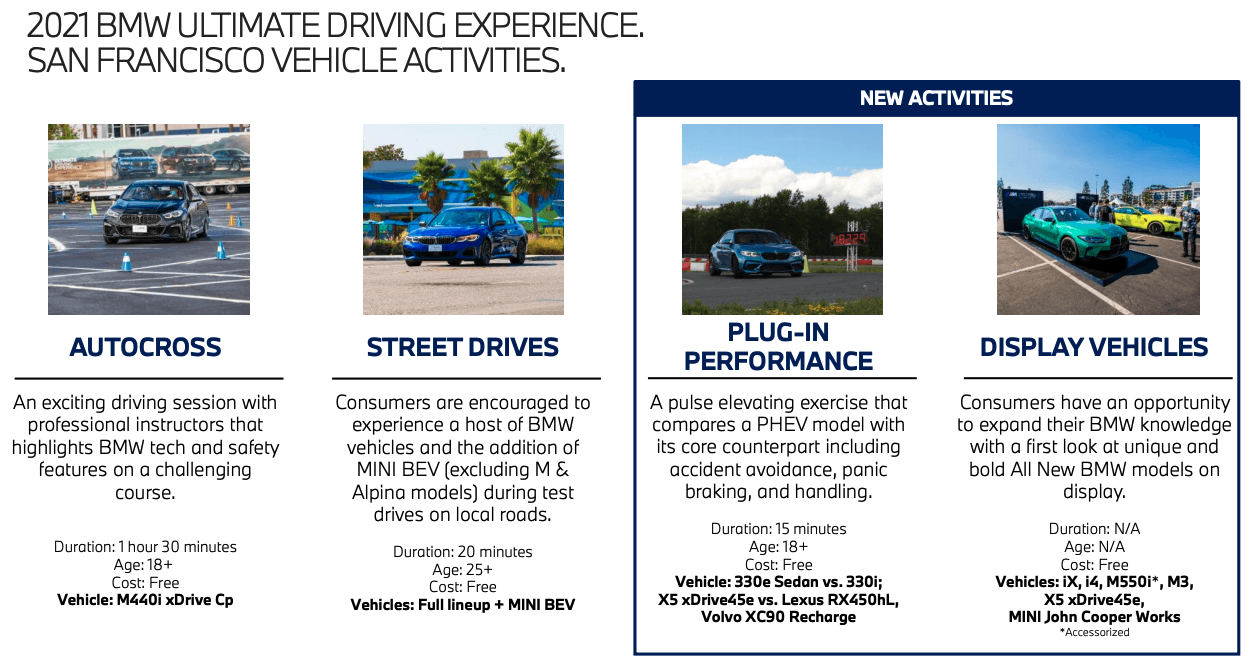 Onsite Safety Measures (as of 7/13/2021):
-Temperature checks and masks REQUIRED for all staff + not fully vaccinated
consumers. For fully vaccinated consumers, masks are strongly encouraged.
-Additional PPE supplies will be handed out at the entrance of the event
-Registration will be completely contactless with the use of QR Codes
-Vehicles will be disinfected in-between sessions/consumers
-Additional onsite signage to remind consumers to adhere to event guidelines
-Multiple hand washing and sanitizer stations spread across the event space
-Markers on the ground to assist consumers in following social distancing
guidelines.